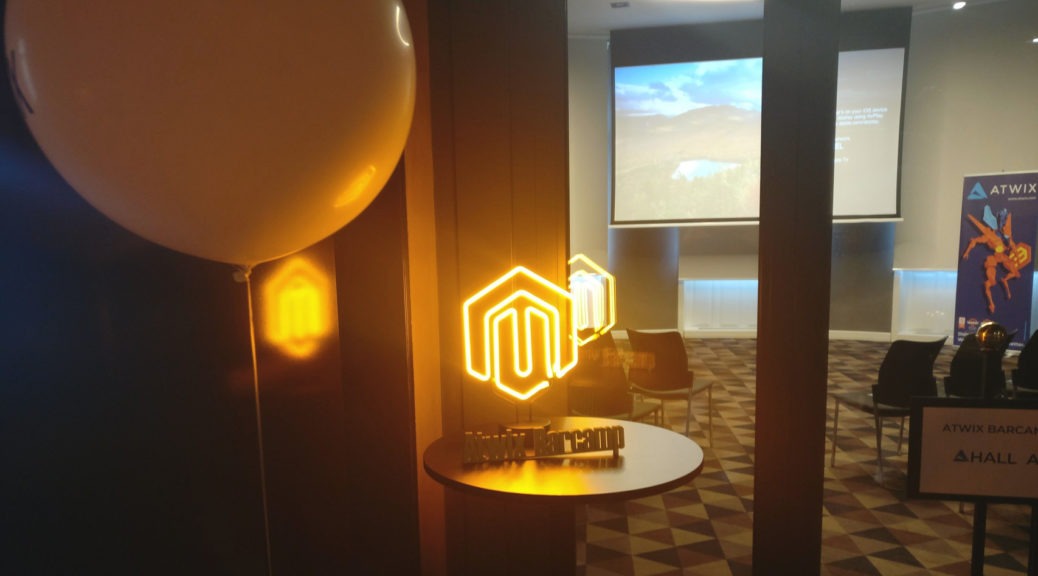 A visit at our friends of Atwix in Lviv/Ukraine
A visit at our friends of Atwix in Lviv/Ukraine
Last month we received an invitation by our friends of Atwix to attend their Barcamp in Lviv/Ukraine. My colleague Oleksandr and me were happy to join it. Oleksandr was the perfect mate, because he was grown up in Ukraine and so he knows everything about the traditions and local specialities.
Our journey started in Frankfurt. After a stopover in Munich we arrived on site with enough energy to explore the beautiful city of Lviv.
Oleksandr introduced me to the local delicacies like Borsch (Борщ), Blini (млинці) with Cherry and Varenyky (вареники).
After an delicious meal we met among others Slava Kravchuk (CEO of Atwix), Yaroslav, Maria Zayak, Tomislav Bilić (CEO of Inchoo) and Max Yekaterynenko (Director of Community Engineering at Adobe).
Barcamp
The Barcamp started with a breakfast where the attendees already had the chance to get to know each other.
The agenda of the Barcamp was created in different way compared to previous Barcamps I attended. There were two parallel tracks with already defined talks and discussions. I had the honor to have a talk about Gitlab CI Build Pipelines.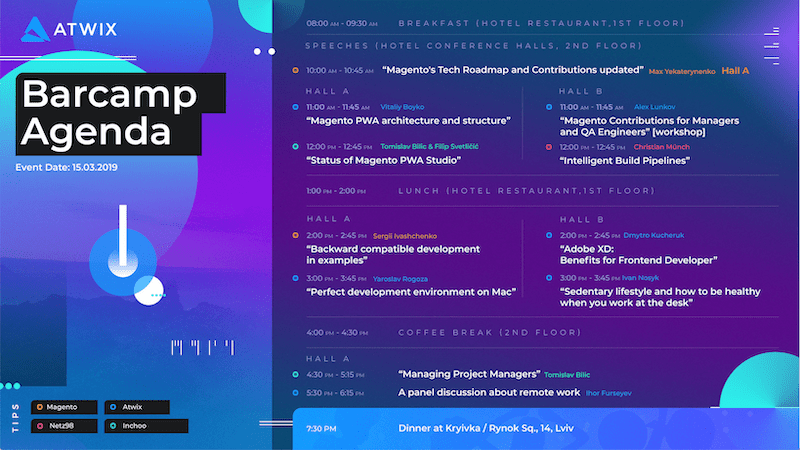 As you can see, there were a lot of interesting talks about all the hot Magento stuff like PWA. Also non Magento related topics like Remote Working were part of the agenda.
After a long day with a lot of good content and discussions the day ended with a party at a very cool location where we tasted local food and drinks together with the Atwix and Inchoo guys.
Magento Contribution Day
Atwix as No. 1 Contributor had organized a Magento Contribution Day. A Contribution Day is a good chance to dive into the source code of the Magento Core.
The procedure is very easy. Pick some topics from Magento Contribution backlog and try to fix, solve or invent stuff. If you do not know what you can do, visit the portal to start your way to contribute.
https://opensource.magento.com/
It is also possible to contribute to non code related topics like the developer documentation. I personally picked up an old bug ticket which was not edited since 2016.
Conclusion
We had a lot of good discussions with Atwix and Inchoo developers and project managers about PWA, Magento, Certification and a lot of more topics. I was able to share some insights about Gitlab-CI pipelines which shows the netz98 way of building projects.
The evening event was great. The Contribution Day, too…
Thank you for the hospitality. See you next time in Lviv.
– Creator of n98-magerun
– Fan of football club @wormatia
– Magento user since version 0.8 beta
– 8x certified Magento developer
– PHP Top 1.000 developer (yes, I'm PHP4 certified and sooooo old)
– Chief development officer at netz98